MEMBERSHIP PRICING, PERKS & POLICIES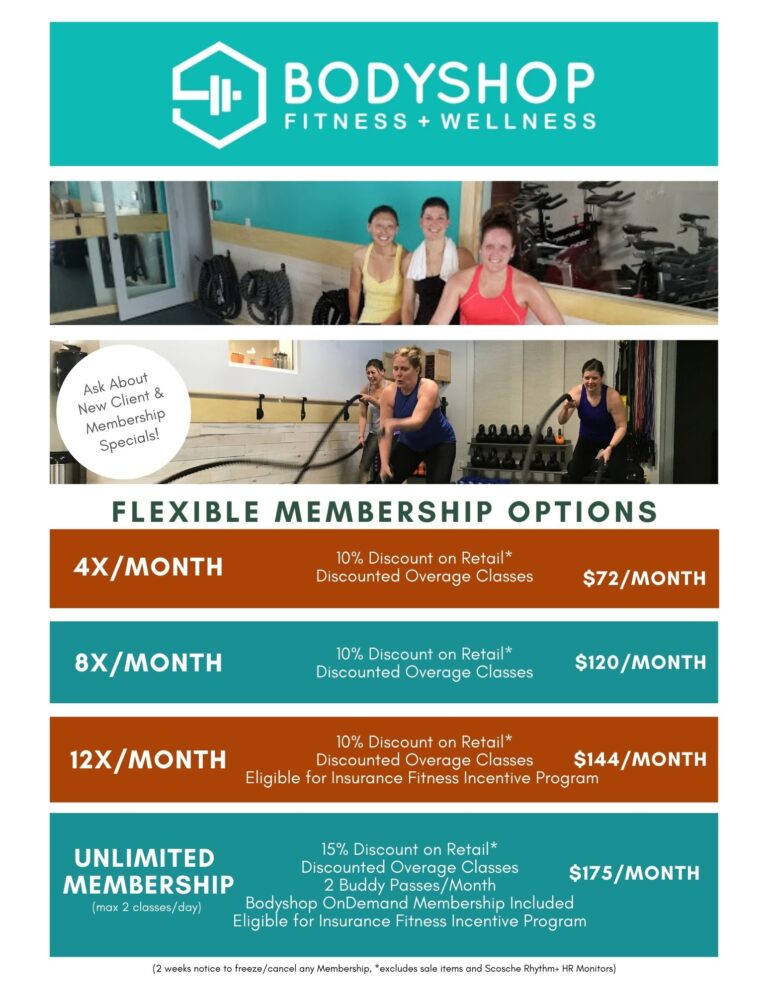 INSURANCE FITNESS INCENTIVES
12x/Month Memberships and Unlimited Memberships are eligible for Insurance Reimbursement with a qualifying insurance plan.  If you attend at least 12 classes per month you could qualify for a $20 reimbursement from your Insurance Provider.  To get enrolled to go NIHCArewards.  You'll need your Insurance info and your banking account/routing number to enroll.  Click HERE for more details on enrolling.
BUDDY PASSES
As a Bodyshop Member you get Buddy Passes to invite your friends to class! 4x, 8x and 12x/month Memberships receive 1 Buddy Pass per month (available upon request) and Unlimited Members receive 2 Buddy Passes per month (loaded directly into your account for easy Guest Booking). We hope you love Bodyshop and want to share your workouts with someone!
RETAIL DISCOUNT
4x, 8x & 12x/month Members receive a 10% discount and Unlimited Members a 15% discount on regular priced retail items (unless otherwise noted).
VIP CLASSES & EVENTS/WORKSHOP DISCOUNTS
Members have access to special VIP classes and discounts on events and workshops.  Want to host a group of friends for a private class?  We can do that too!
FREEZE / CANCEL POLICY
Memberships can be Cancelled or Frozen with 2 weeks notice prior to the scheduled billing date by emailing getfit@bodyshop.fit.  Members can freeze their Membership for up to 4 months each calendar year.  Freezes and Cancellations are based on a Members billing cycle;  Bodyshop does not prorate months of Membership.  In the event a Member Freezes their Membership, the Member will not be charged the monthly Membership fee for the months agreed upon and the Member will not receive any other Membership benefits during this time, but will maintain the Memberships current rate upon reinstatement.
See Terms & Conditions for more info.