MEMBERSHIP PRICING, PERKS & POLICIES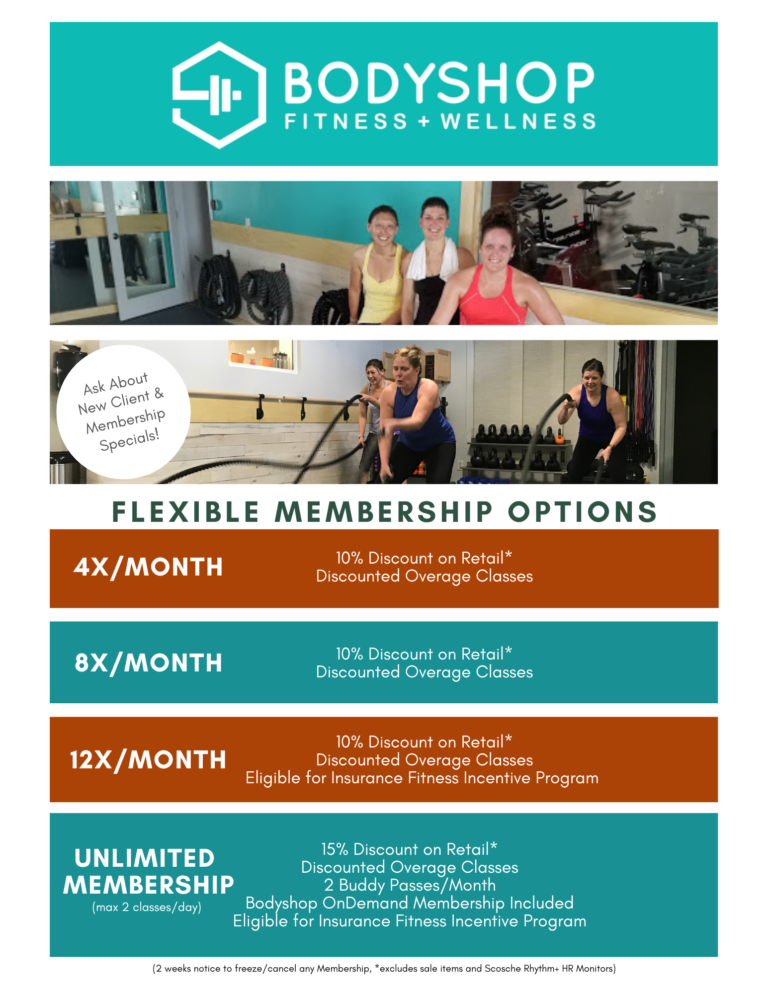 INSURANCE FITNESS INCENTIVES
12x/Month Memberships and Unlimited Memberships are eligible for Insurance Reimbursement with a qualifying insurance plan. If you attend at least 12 classes per month you could qualify for a $20 reimbursement from your Insurance Provider. To get enrolled to go NIHCArewards. You'll need your Insurance info and your banking account/routing number to enroll. Click HERE for more details on enrolling.
BUDDY PASSES
As a Bodyshop Member you get Buddy Passes to invite your friends to class! 4x, 8x and 12x/month Memberships receive 1 Buddy Pass per month and Unlimited Members receive 2 Buddy Passes per month. We hope you love Bodyshop and want to share your workouts with someone!
RETAIL DISCOUNT
4x, 8x & 12x/month Members receive a 10% discount and Unlimited Members a 15% discount on regular priced retail items (unless otherwise noted).
VIP CLASSES & EVENTS/WORKSHOP DISCOUNTS
Members have access to special VIP classes and discounts on events and workshops. Want to host a group of friends or co-workers for a private class? We can do that too!
FREEZE / CANCEL POLICY
Memberships can be Cancelled or Frozen with 2 weeks notice prior to the scheduled billing date by emailing [email protected]. Members can freeze their Membership for up to 4 months each calendar year.
See Terms & Conditions for more info.